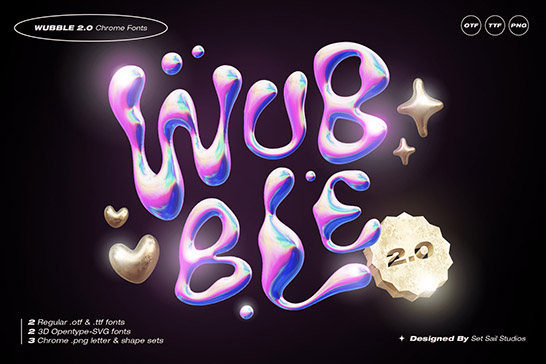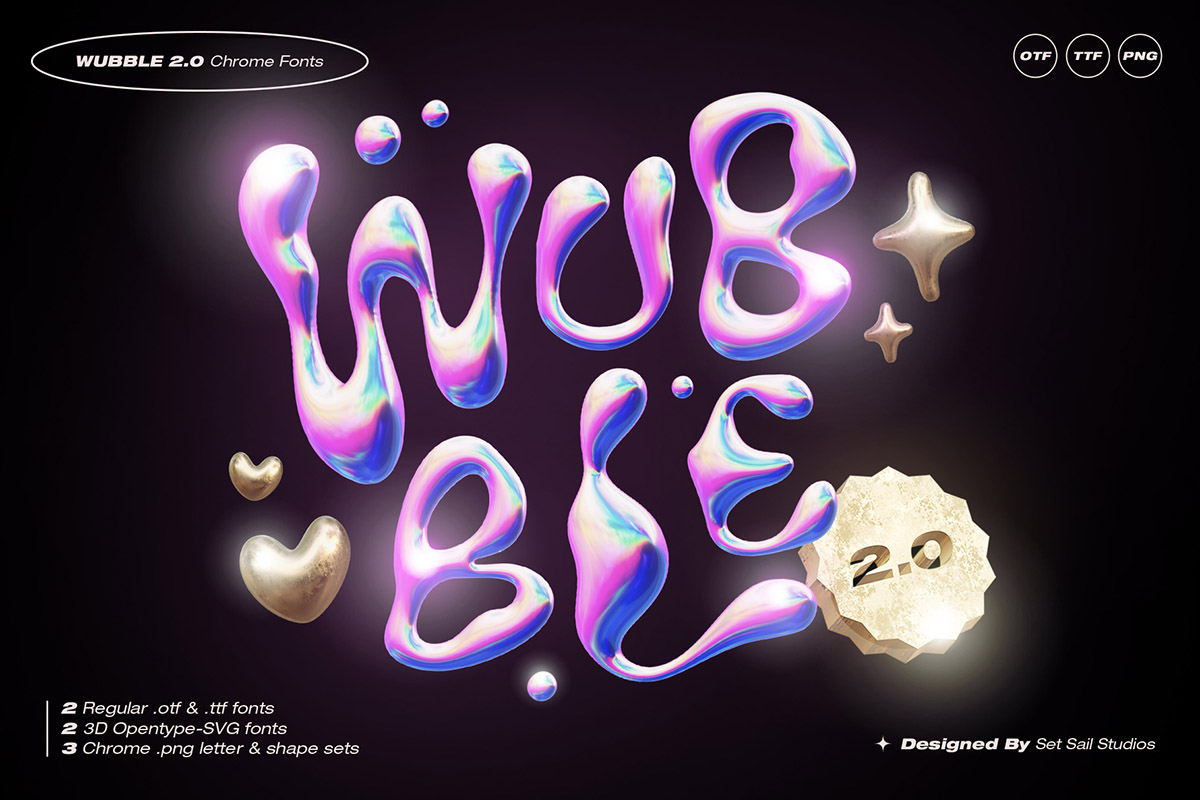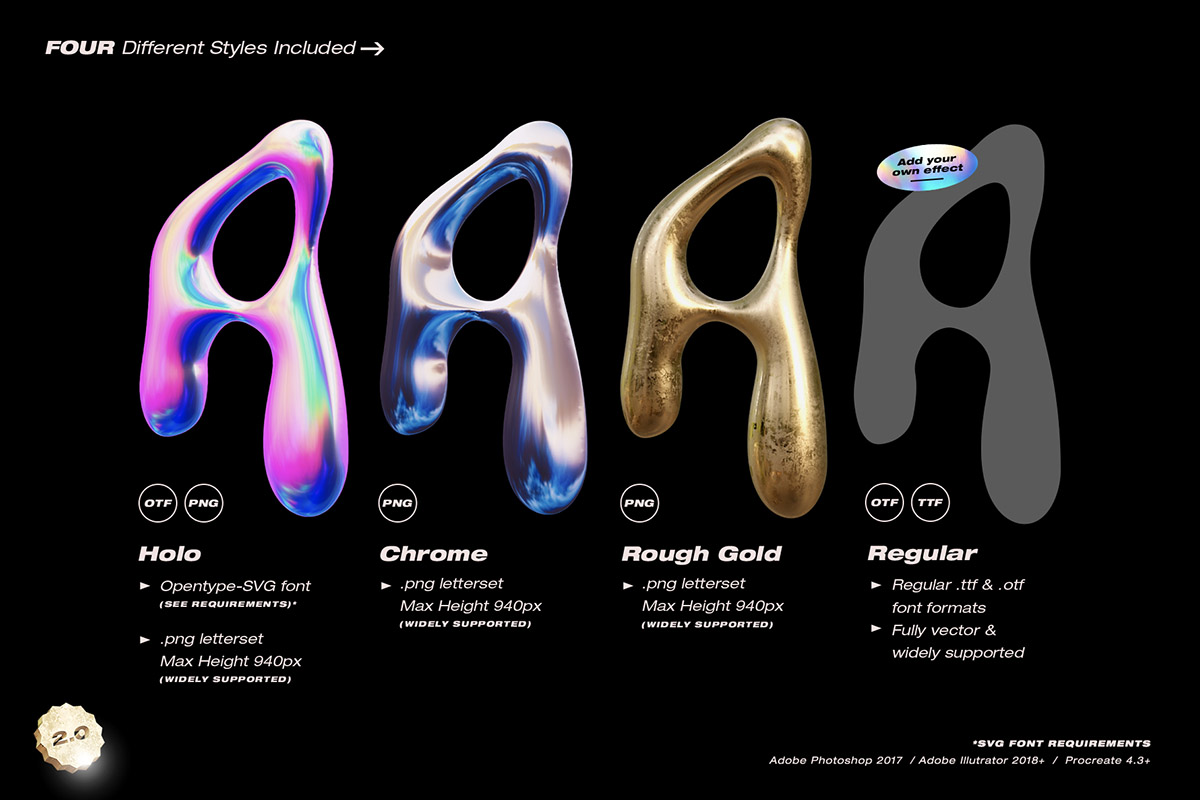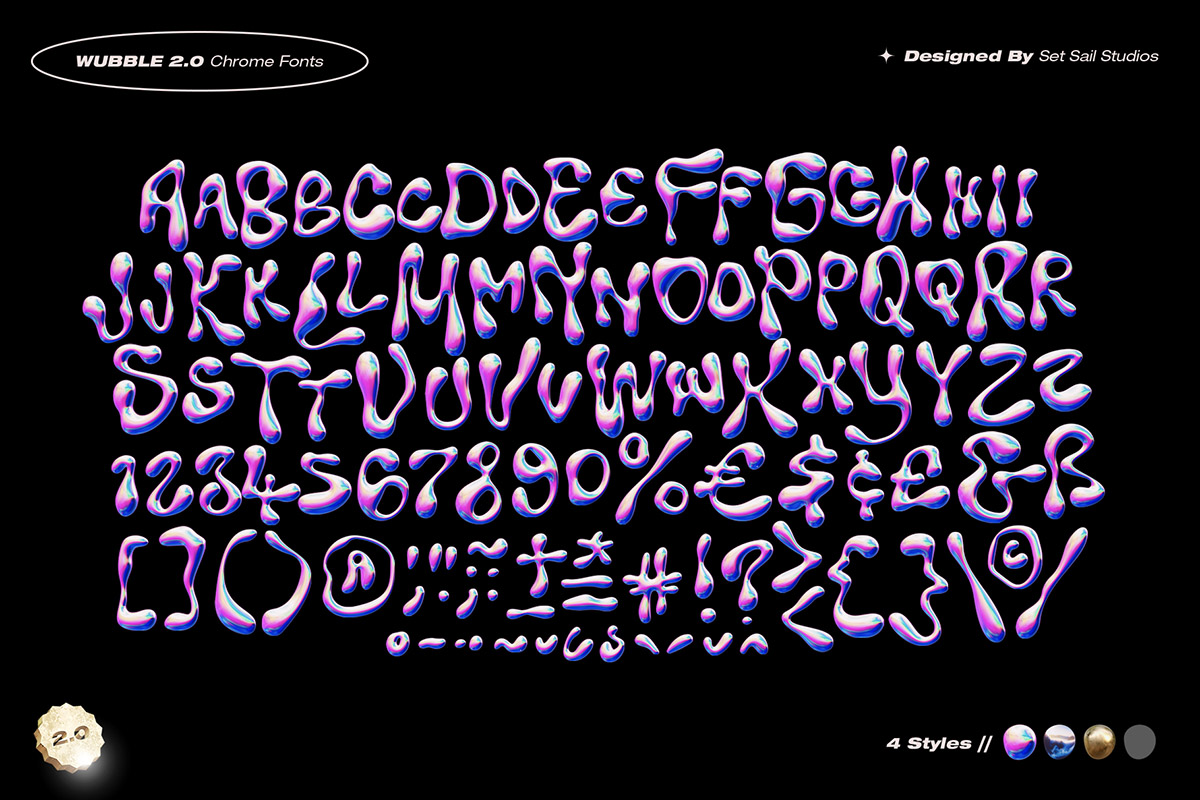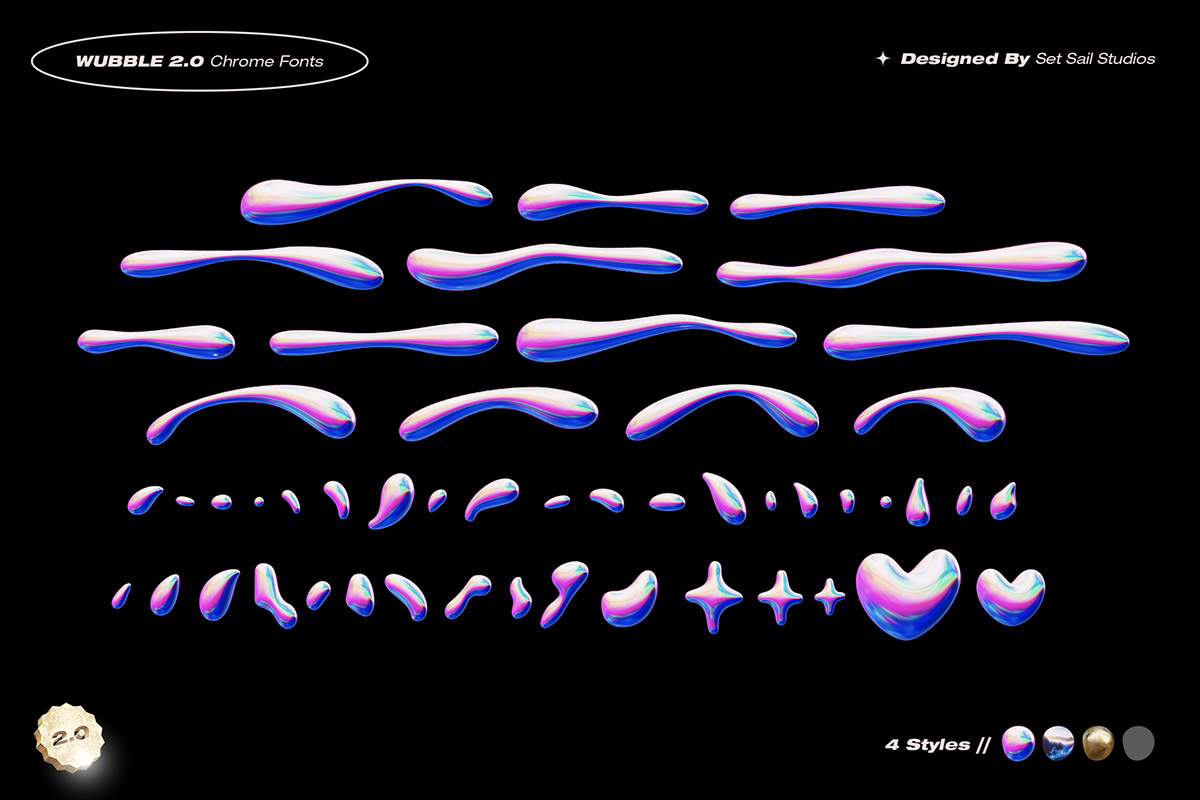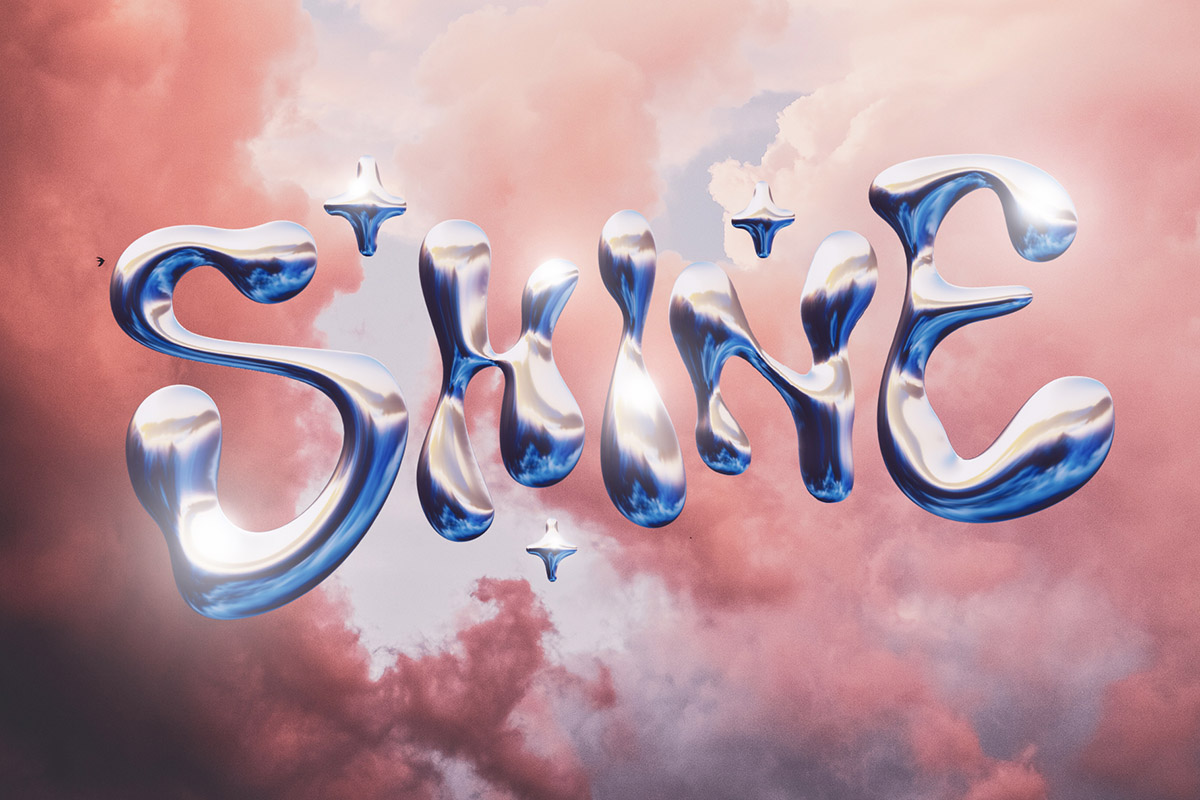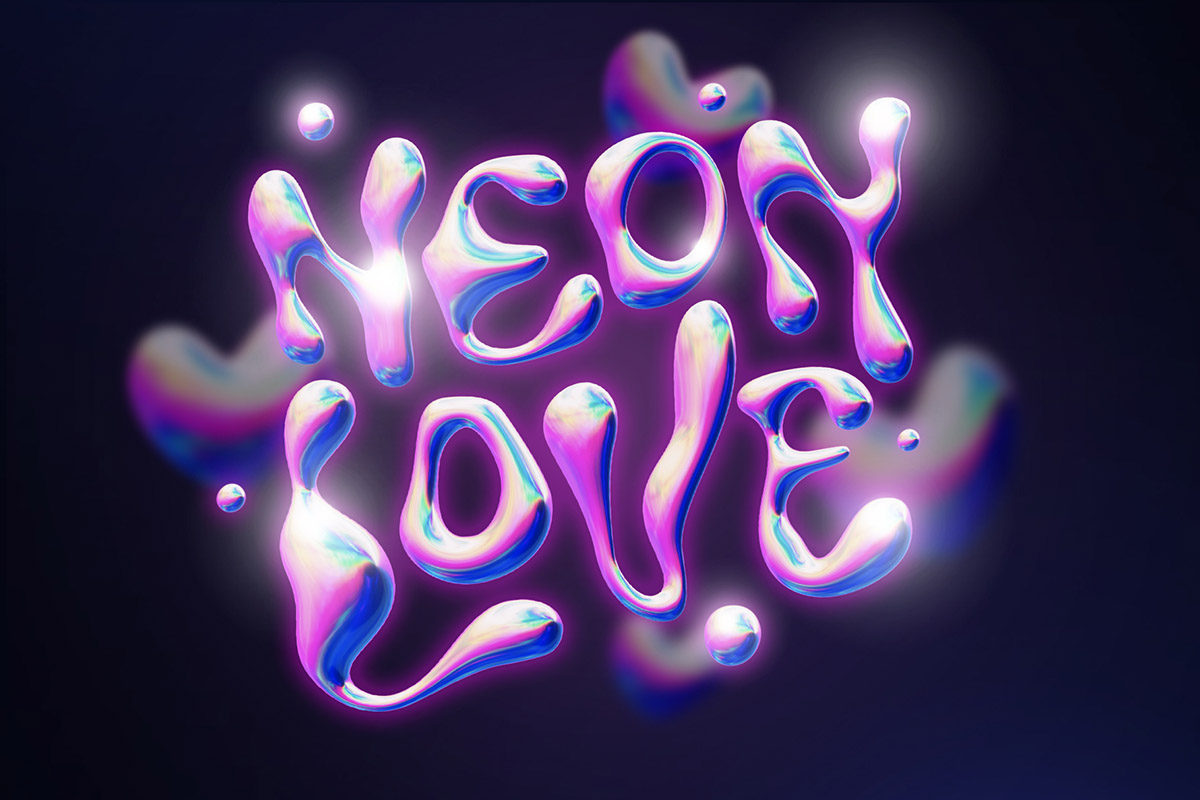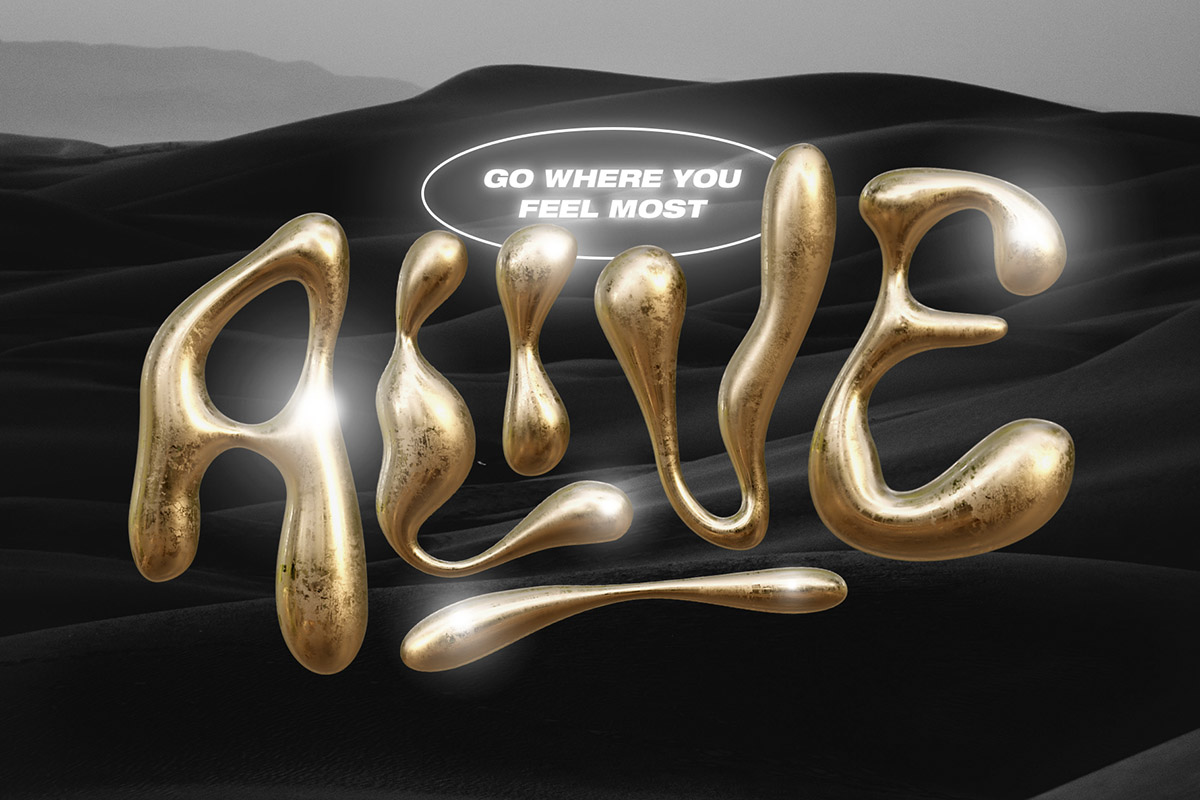 The
Wubble
font is back with some more 3D lettered goodness, this time with 3 brand new ultra-realistic textures! Introducing
Wubble 2.0
! A set of 2 SVG fonts, 2 Regular OTF fonts, and 3 sets of .png characters in 3 new styles⁠—
Glossy Chrome
,
Rough Gold
, and
Holographic
. Ideal for huge impact display text with a Y2K inspired aesthetic.
The Wubble 2.0 character sets include a full set of upper and lowercase characters, including numerals, punctuation, and multilingual support. It also includes a set of 50 swashes and shapes to compliment your typography.

This set of letters, swashes and shapes are provided in the following formats;
---
2 Regular Fonts (.ttf/.otf) • Includes the full set of Wubble letters, as well as a separate font including the swashes and shapes. The regular fonts are in a traditional font format and are widely supported, but do not have the built-in 3D bubble effect (great for adding your own effect!).
2 Opentype-SVG Fonts (.otf) • ❗Require Photoshop CC 2017, Illustrator CC 2018, or Procreate 4.3 (or newer) to use. Opentype-SVG fonts are included for the Holographic Set of Wubble letters, swashes and shapes. The Holographic bubble effect is built into each letter, just simply install as a regular font and type away!
3 Image Lettersets (.png) • The full set of 3D Wubble letters, swashes and shapes are also included as separate .png images on a transparent background, which are widely supported by graphics programs. This includes all characters for all three 3D styles seen in the images (Holo, Chrome, and Gold).
---

Language Support • The Regular Wubble font contains language support for; English, French, Italian, Spanish, Portuguese, German, Swedish, Norwegian, Danish, Dutch, Finnish, Indonesian, Malay, Hungarian, Polish, Croatian, Turkish, Romanian, Czech, Latvian, Lithuanian, Slovak, Slovenian.
The Opentype-SVG font and .png sets contain the following accents which can be manually added to your letters; ¨ ˜ ´ ˆ ` ˚ ˘ ˉ ˝ ˇ˛ ¸
Thanks for checking it out, and please get in touch if you had any queries 🙂