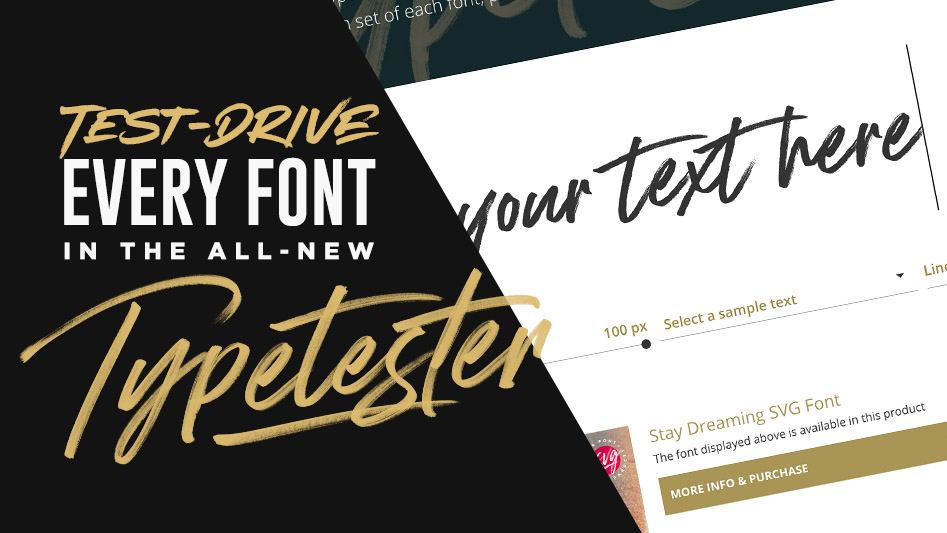 One of the most common questions I get asked is "Can I preview my own text in your font before buying?", and from my years as a freelance designer I totally understand how important that feature is. So, it's something I've been working on behind the scenes, and I'm super excited to finally be able to present to you the all new Typetester.
Here you can test drive every single one of my fonts (that's over 100), from the same page! Just simply select the font you want to test out from the drop-down menu, type out your text in real time, and voilà. Follow the link below the typetester for more information on your selected font.
The typetester contains demo fonts only, so you'll only be able to test out A-Z and a-z characters (no numerals, punctuation, language support or opentype features such as ligatures). But I hope this will be a handy tool to help you decide which of my fonts is best for your project. I also just wanted to note that it'll take a little while to load, due to the fact that all fonts are preloaded beforehand to save any loading delays when using the tool. Once you've loaded the typetester for the first time, it should be much quicker to launch when re-visiting in future.
So, what are you waiting for – start type-testing now!
Run Typetester →