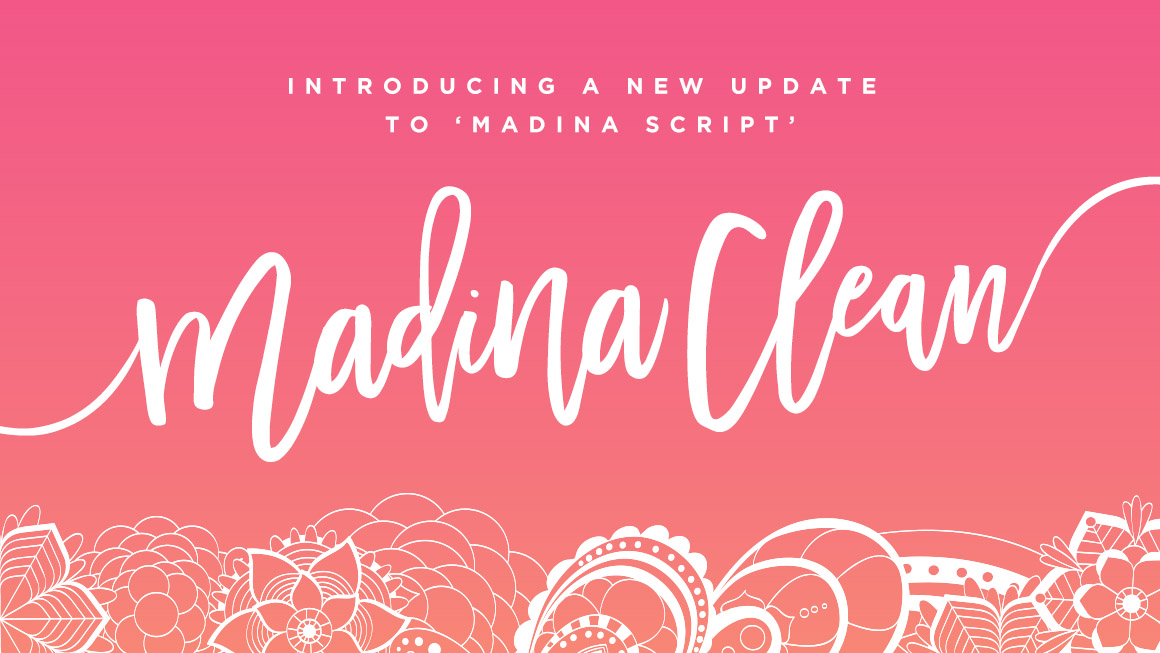 Since launching our fabulously fun font 'Madina Script' in late 2015, we've seen it become one of the most popular script fonts in recent months – featuring at #6 in Creative Market's top products of 2016, making it the website's top single font product of the year. It's been on a heck of a journey, and we love nothing more than seeing it being used & enjoyed by designers across the globe.
As a thank you to everyone who has purchased the font and contributed to it's success, we thought it was about time to give you a little update, which many customers have requested. So please meet Madina Clean! A totally smooth version of 'Madina Script', with all rough edges and textures removed. Why? Well, we love the authentic hand-painted strokes, and we know a lot of customers do too, as it gives the font a rustic and personal touch which adds to it's overall charm. However, the font has become a go-to choice for many craft lovers out there, and the textures aren't always ideal when it comes to specialised printing techniques such as laser & vinyl cutting. The very fine details in the brush font can be tricky to work with when you're using it as a template to cut out of a solid object, rather than just printing it with good ol' fashioned ink & paper. So if you're using software such as Silhouette or Cricut, this is the perfect option for you.
However, Madina Clean isn't just for users of this software, anyone can use and enjoy the silky smooth finish of Madina Clean. Just try combining it with some vector patterns and solid colours or gradients and you'll see it's a lovely addition to any designers font menu, which is bound to come in handy when you're looking to tone down the heavy detail.
How do I get it? Madina Clean comes bundled as an added extra with the Madina Script font, which you can purchase from our store using the button below. Ready for some more good news?
We're slashing 40% off of the price of Madina Script to celebrate the new update! That's only £7, and the offer ends after 2 weeks on 6th March 2017, so make sure to grab a copy before it ends.
If you've already purchased Madina Script from our website and would like a copy of Madina Clean, please forward your e-mail receipt to info@setsailstudios.com and we'll get that straight over to you. If you're a customer from Creative Market, you can simply sign in to your account and re-download the product from the font's page to receive the updated version.
We hope you enjoy this new update and can't wait to see more of your fantastic creations using Madina Clean!
– Sam @ Set Sail Studios
View Madina Script →